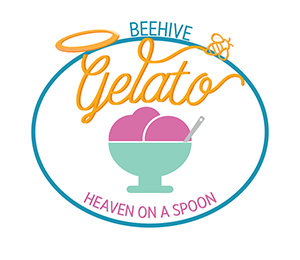 AUTHENTIC GELATO & SORBETTO
Our authentic gelato is prepared fresh from natural ingredients and it consists of two main types:
Water-based (Sorbetto) and cream-based. Compared to traditional ice cream, gelato has less air and is more concentrated. You will enjoy a more intense flavor! It also contains fewer calories and less than half the fat found in traditional ice cream. For those of you who have enjoyed our authentic Italian Gelato… you know it is "Heaven on a Spoon!"
Our fruit flavored Sorbettos are water-based with absolutely no dairy products and are 100% lactose free. Each serving has less than 1 gram of fat and only 120-160 calories.
Our cream flavors are dairy based with whole milk. They have only 4-8% butter fat. This means a single serving has less than 8 grams of fat and only 140-180 calories.
GELATO CATERING
We charge a $200 usage fee which includes an hour of setting up and tearing down (1/2 hr. for setup, 1/2 hr. for tear down), delivery (within 25 miles), plus someone to serve at your event for two hours.
**We provide FREE delivery to anywhere in Cache Valley. Anything further, we would simply charge for mileage.**
We charge $100 per 100 people for supplies. Each pan is estimated to yield between 35-40 servings per pan using our small gelato cups. (We have estimated the amount of servings you can yield from a pan of gelato based on the size of cup (small, 3.4 oz) we provide.)
Let us know if we need to bring an extension cord(s). The freezer unit must be accessible to power.
We require a $100 refundable deposit to reserve the date of your event.  We require a minimum 48-hour notice in the event of cancellation.
$60/pan of gelato: Must order a minimum of 6 pans of gelato. Each pan holds approximately 4 liters. **Each pan yields about 35-40 servings.
QUICK BREAK DOWN
$200 usage fee
$100 per 100 people for supplies
$60/pan
$100 refundable deposit
We are waiting for you
Whether you are passing through town or a local hero, we're ready to serve up some deliciousness!

Hours
Monday – Thursday:
11:00 am to 9:00 pm
Friday – Saturday:
11:00 am to 10:00 pm
Closed Sundays! 
We've changed our Winter Hours
Monday-Thursday:
11:00 am to 8:30 pm
Friday-Saturday:
11:00 am to 9:30 pm

Our Address
255 S. Main • Logan, UT 84321